BPEG
BEIJING POWER EQUIPMENT GROUP CO., LTD
北京电力设备总厂有限公司
Established in 1952, Beijing Power Equipment Group Co., Ltd. (BPEG) was the largest repairing and manufacturing enterprise in the former electrical industry, and currently is affiliated to China Energy Engineering Corporation Limited (CEEC Ltd). Headquarters located in Liangxiang of Beijing, BPEG has subsidiaries in Beijing, Hebei and Xinjiang.
北京电力设备总厂有限公司始建于1952年,是原电力系统最大的修造企业,现隶属于中国能源建设集团有限公司。公司地跨北京、河北、新疆三地,本部设在北京良乡。
BPEG's mission is to become an international energy equipment corporation comprising three main areas: design, manufacture and service. Its stated motto is: "To be a customer service-centered enterprise. To pay attention to customer's needs, wants and desires." Aiming at development of "clean energy, smart grid, and environmentally friendly", BPEG has formed its major industry of large scale station affiliation, ultrahigh voltage equipment, Engineering Procurement Construction (EPC), spare parts, and testing and maintenance. Moreover, it has formed the product structure of simultaneously developing products of electricity generating, power grid, metallurgy, building materials, and chemical engineering. Additionally, BPEG owns a series of equipment and products with independent intellectual property rights.
公司始终致力于打造设计、制造、服务一体化的国际能源装备公司,秉承"想客户所想,急客户所急,干客户所需"的企业宗旨,坚持"清洁能源、智能电网、节能环保"的发展方向,以大型电站辅机设备、特高压电网装备、工程总包成套服务、备品配件与检修维护服务为主业,形成了发电、电网、冶金、建材、化工并举的产品格局和一批拥有自主知识产权的重大技术装备产品。
BPEG has the leading advantage in manufacturing and prominent market share domestically, with products and services covering all provinces, cities, and autonomous regions, extending to 86 countries in 5 continents. Established with provincial-level technology, BPEG is a world-class coal mill research and manufacturing base, and one of the backbone enterprises engaged in localization of EHV grid equipment and MW-level nuclear power busbars. As an industrial pioneer enterprise, it is ranked as one of the top 100 enterprises in machinery industry in China.
公司具有国内领先的制造优势和突出的市场占有率,产品和服务遍布国内所有省市自治区和行政特区,遍及世界五大洲86个国家。公司设有省市级技术中心,是世界级磨煤机研制基地,是特高压电网装备、百万级核电母线国产化研制骨干企业之一;是北京市高新技术企业,中国机械工业百强企业,中国工业排头兵企业。
Guidelines:

How to attend the virtual conference.pdf

Overview programme.pdf
Downloads:
Related Journal: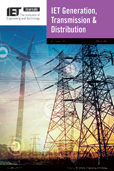 IET Generation, Transmission & Distribution
Impact Factor: 3.229
5-year Impact Factor: 3.432
CiteScore: 4.25
SNIP: 1.443
SJR: 1.099