PGEP
State Key Laboratory of Power Grid Environmental Protection
电网环境保护国家重点实验室
Firstly founded in 1996, the laboratory of power grid environmental protection (PGEP) was formally promoted to a state key laboratory in Sep 2015, established by China Electric Power Research Institute Wuhan Branch. In order to counter the relevant scientific and technology problems existed in the field of gird environmental protection, the laboratory has set 4 major research directions: the character & effects of the electromagnetic environment in power grid, the character & suppression of noise in power grid, the character & protection of electromagnetic interference in power grid, and novel environmental friendly transmission technology & equipment. Researches on impact, forecast and improvement technology of electromagnetic environment analysis on power grid, large-capacity and long-distance power transmission technology, generation, transmission and suppression of electric transmission and transformation equipment, and character & protection of power grid electromagnetic interference have been carried out to achieve the "scientific evaluation, perfect forecast, and validation control" of power grid environment; meanwhile, providing technical support for the construction of green grid, the resource saving and environment friendly society.
There are 4 research groups and 1 independent operation and management office in the key lab. Till Dec, 2019, among the 96 permanent staff members, 30 of them hold Ph.D. degrees. The research team includes 23 professor level senior engineers, 55 senior engineers. Besides, among high-level talents, 1 enjoys the special allowance of the state council. There are 4 winners of "outstanding expert talents of SGCC", 3 winners of "leading professional talents of SGCC", 16 winners of "outstanding expert bench talents of SGCC", and 5 sciences and technology tackling teams of SGCC.
PGEP is equipped with advanced experimental equipment. The total value of the lab's equipment reaches 290 millions RMB. Among them, there are 38 sets of instruments and equipment with the unit price of over 1 million RMB. PGEP has scientific research facilities such as UHV test & research lines, electromagnetic environment simulation & test platform, long term observation platform for ecological impact of extremely low frequency electromagnetic fields, noise testing platform, high/low altitude corona cage test platform, environmental climate laboratory, UHV AC equipment test platform under all working conditions, DC cable test platform, et al. Some experimental equipment reached the international advanced level.
In the past five years, 95 scientific research projects have been undertaken in lead at both national and provincial level. 68 national or provincial prizes have been awarded to PGEP, which included 1 Speical Prize, 2 Second Prizes in the "National Science and Technology Advancement Award". 3 international standards, 47 national standards, 64 power industry standards and 6 group standards have been formulated or revised. 173 invention patents and 113 utility model patents are authorized. 2 million funds are set up every year to support open fund projects from society. Up to now, 51 open fund projects have been approved, with a total budget of about 10 million yuan.
Looking ahead to the future, PGEP seeks to become the R&D central, technical standards, achievement transformation and talent cultivation central of nation grid environmental protection field. We cordially invite all of you, whether you are a client or a partner, to join us on our exciting journey ahead.
电网环境保护国家重点实验室(英文缩写PGEP)始建于1996年。2015年9月,依托中国电力科学研究院有限公司武汉分院启动国家重点实验室建设。实验室针对电网环境保护领域存在的相关科学和技术问题,设置电网电磁环境特性及影响、电网噪声特性及控制、电网电磁干扰特性及防护、新型环保输电技术与设备四个主要研究方向。开展电网电磁环境影响、预测和改善技术,大容量远距离环保输电技术,输变电设备噪声产生、传播和抑制,电网电磁干扰特性与防护技术的研究,以期实现电网环境的"科学测评、准确预测、有效控制",为构建绿色电网、资源节约型和环境友好型的和谐社会提供技术支撑。
实验室设有4个专业研究室和1个独立的管理办公室。截止2019年12月,拥有固定人员96人,其中博士30人。研究团队拥有教授级高级工程师23人,高级工程师55人。高层次人才方面,享受国务院政府特殊津贴专家1人,国家电网公司优秀专家人才4人,国家电网公司专业领军人才3人,国家电网公司优秀专家后备16人。还拥有5个国家电网公司科技攻关团队。
实验室装备先进,拥有的仪器设备总值达2.9亿元,其中单价100万元以上的仪器设备有38台/套。实验室拥有特高压试验线段、电磁环境仿真与试验平台、极低频电磁场生态影响长期观测平台、噪声试验平台、高/低海拔电晕笼试验平台、大型多功能环境气候实验室、特高压交流设备全工况试验研究平台、直流电缆试验设施等科研设施,部分设施的实验能力国际领先。
近五年来,实验室牵头承担了95项国家级或省部级科技项目;获得了68项国家级或省部级科技奖励,其中包括1项国家科技进步特等奖,2项国家科技进步二等奖;制修定3项国际标准,47项国家标准,64项电力行业标准,6项团体标准;授权发明专家173项,实用新型专利113项。每年设立200万经费,向社会征集开放基金项目,目前已立项51项,累计经费1千万元。
展望未来,PGEP力争成为国家电网环保领域的研发中心、技术标准、成果转化和人才培养中心。我们诚挚地邀请您,无论您是客户还是合作伙伴,与我们一起踏上激动人心的旅程。
Guidelines:

How to attend the virtual conference.pdf

Overview programme.pdf
Downloads:
Related Journal: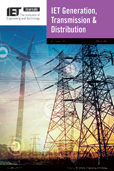 IET Generation, Transmission & Distribution
Impact Factor: 3.229
5-year Impact Factor: 3.432
CiteScore: 4.25
SNIP: 1.443
SJR: 1.099