ACDC 2020 Virtual Conference
A Letter to All Authors
Dear All ACDC 2020 Conference Authors,
Due to the outbreak of COVID-19 and in response to the government's call to reduce/avoid large scale gathering, the ACDC 2020 Organizing Committee decided to hold this year's conference virtually instead of the physical conference. This is to make sure everyone stays safe during these difficult times while still being able to continue communicating, researching and learning without boundaries and in a more flexible way.
The virtual conference will be held on 02-03 July 2020. Besides being held virtually, there is no difference to a physical conference. All authors must attend the conference virtually and present their paper either in poster display or in oral presentation.
Authors should follow the guideline below to 1) complete the registration by deadline 2) prepare the presentation as required 3) submit poster/oral presentation by deadline and 4) attend/present paper virtually on time. Authors who failed to register/submit/attend the conference will NOT be able to have their paper published and the registration fee is Non-refundable after the conference.
Please do read the registration guideline and complete the process as required. Should you have any questions please feel free to contact us.
ACDC 2020 Organizing Committee
26 April 2020
Submission of full papers:09 Mar.2020
Notification of full paper acceptance*:30 Mar.2020
Early bird registration deadline** :22 May 2020
Author registration deadline:12 Jun. 2020
Presentation submission deadline: 19 June 2020
Conference date:02~03 Jul. 2020
Before 12 June 2020
• Member 1000 CNY/145 USD
• Non-Member 1200 CNY/175USD
• Additional Paper Adu 1000 CNY/145USD
• Student Member 700 CNY/ 100USD
• Student Non-Member 800CNY/115 USD
• Additional Paper Stu 700 CNY/100 USD
• Attendee without paper 600 CNY/ 90 USD
Paper Publishing
The IET guarantees that successful authors will:
Presented at ACDC 2020 in either oral presentation or poster display
Indexed by IET Inspec, IEEE Xplore and submitted to Ei Compendex for consideration for indexing
Templates:

Overview programme.pdf

PPT template.ppt

Poster Sample 1.pdf

Poster Sample 2.pdf
Guidance for Oral Presentation
Downloads:

Registration Guideline.pdf

Related Journal: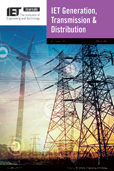 IET Generation, Transmission & Distribution
Impact Factor: 3.229
5-year Impact Factor: 3.432
CiteScore: 4.25
SNIP: 1.443
SJR: 1.099