Venue
Overview of Xi'an City, Shaanxi Province, China
Xi'an is one of the four major tourist cities in China and it is the largest city in in Shanxi Province; its long history can be traced back to more than 3000 years. From the earliest societies, people have lived here. As one of the six ancient capital cities in China, Xian was the capital for the longest time - it served 12 dynasties (more than any other city) for 1,120 years, including the well-known Western Zhou, Qin, Western Han, Sui and Tang, stretching over a total of more than 2000 years.

Xi'an China is also a world-famous tourist city, a treasure house of cultural relics. The remains of past civilizations furnish evidence of every major epoch in China's half a million history, making for a particularly illustrative textbook of Chinese culture.
Xi'an Travel - Must See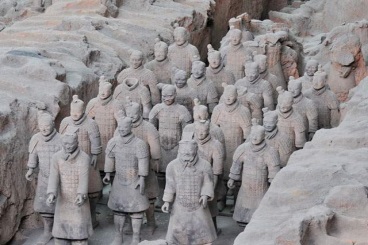 In a vault of approximately 12,000m2 and 5m underground lay some 8,000 terracotta infantry soldiers, archers, cavalrymen and chariots arranged in battle formation, ready to defend their emperor's immortal soul. Each soldier is approximately 1.8m-tall, with higher-ranking soldiers being taller, and made of 7.6cm thick terracotta clay. Each part of the hollow body was made separately, while the trunk, limbs and hands were mass-produced, the heads were individually constructed and the face of each warrior is distinct. The terracotta sculptures show a high level of artistry with individualized facial expressions, hairstyles and clothing and were once brightly painted with black armour, colourful red scarves and green trousers, though the colours have long faded. As warriors, they each held weapon, bronze swords, spears, axes and halberds-which were still sharp when discovered, and longbows and crossbows.

It's amazing how Xi'an history envelops you, when biking atop the old City Wall and enjoying a great view of the city. Xi'an's City Walls are imposing and built to keep out bandits and barbarians. Towers at each corner of the walls have defensive towers jutting out along the length of the walls. The surviving walls, built on Tang dynasty foundations, date to the Ming dynasty and were built during the 14th century. Parts of the wall have been destroyed and the wall is incomplete but many sections remain or have been rebuilt. You can get up on the walls at any gate at the compass points. The scenery at the south gate is the best.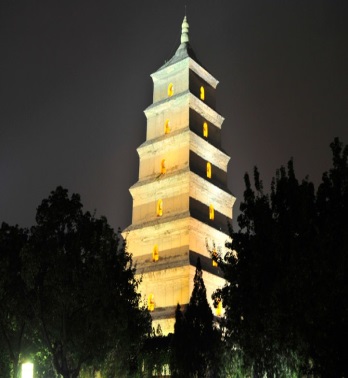 The pagoda is regarded by many as the symbol of Xi'an China. It was built to house and protect Buddhist scriptures collected by the Chinese monk, Xuan Zang, who spent 17 years travelling to and from India to collect them and an equal amount of time on the translation. His journey has been immortalized in the novel Journey to the West, one of China's most important literary works.
Xi'an travel -- Must Eat

Xi'an is honoured as the "Capital of Delicacies". The chefs in the Shaanxi province have accumulated styles and tastes from around the country, and adjusted them to the local flavour. A trip to Xi'an will not be complete without trying out its local food. The mouth-watering cuisine and snacks listed below are available everywhere in Xi'an.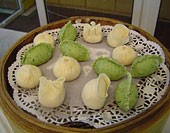 One of most visitors ' favourite meals is a Chinese dumpling feast. These dumplings are made in all kinds of shapes such as duck, chicken, rose flower, walnut, and pumpkin. Each pastry shell is stuffed with a different combination of meats and vegetables and then steamed or fried. The aroma, taste, culture, and exciting environment make it extremely popular and worth your while to join in the fun.
Rou Jia Mo (Chinese Hamburger)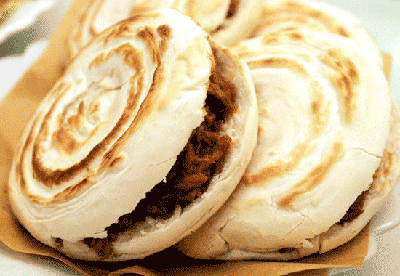 Rou Jia Mo, also called Chinese Hamburger is very similar to the Western hamburger essentially. "Rou" means beef or mutton, which is stewed for hours in a soup consisting of over 20 kinds of spices and seasonings, while "Mo" is a type of flatbread, which is made of wheat flour. After "Rou" is finely chopped, mixed with coriander and mild peppers, and stuffed into "Mo". It can be found in many street food stalls or restaurants.
Liang Pi (Cold Rice Noodles)


Liang Pi is a specialty dish originating from Xi'an and has spread to many other places in China, in particular the northern and central regions. It is like a kind of salad but made of wheat gluten chunks and wheat starch noodles, dressed with cucumber, cilantro, bean sprouts, chili oil and dark vinegar. This would be a perfect appetizer.


Another one of Xi'an's culinary delights is guantang bao, or rather "steamed buns filled with sauce". Your choice of mutton, beef, prawn, vegetable, or a combination. The best place to pick up this hearty delicacy is at Jia San Soup Parcel Restaurant on Muslim Snack Street. Look for the massive, vaulting blue archway that marks the entrance to steamed bun heaven.

Templates:

Overview programme.pdf

PPT template.ppt

Poster Sample 1.pdf

Poster Sample 2.pdf
Guidance for Oral Presentation
Downloads:

Registration Guideline.pdf

Related Journal: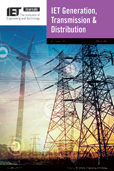 IET Generation, Transmission & Distribution
Impact Factor: 3.229
5-year Impact Factor: 3.432
CiteScore: 4.25
SNIP: 1.443
SJR: 1.099